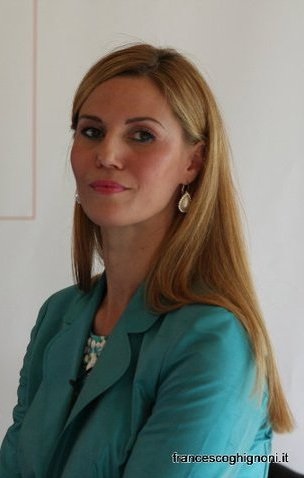 My name is Simona Petrozzi and I decided to found Siro Consulting after years of intensive study and work.
My company was established in 2006 thanks to an announcement dedicated to innovative women enterprises set up by the Region of Lazio.
My business plan presented an innovative business idea about contracting out (outsourcing) the internal business process of foreign affairs and relations company's department. Currently, Siro Consulting uses partners and associates specialized in various fields and skills.
I have a degree in Foreign Languages and Literatures (English and Russian) and I specialized in "Communication and Information". I attended a Master in Counseling for the management of human resources in SMEs and I am enrolled for a second title in "Communication and Business Administration" at the University LUMSA of Rome. After my studies I aimed to have a deep knowledge of 5 languages. This has enabled me to manage relations with foreign countries even in institutional and political contests. I specialized in business consulting, management consulting and business services, counseling and training, focusing my attention in particular to innovation and internationalization of SMEs thanks to web intelligence tools too (OSINT open-source national and international). I followed different business projects for various clients, both public and private.
This allowed me to get significant associative positions in support and development of "corporate business culture". I have been National Vice President of the "Young Entrepreneurs Group Confcommercio" since March 2011 to July 2015, President of the "Young Entrepreneurs Group Confcommercio"of Arezzo since March 2008 and Regional President of the "Young Entrepreneurs Confcommercio" in Tuscany since 2009. I have served on the Arezzo Chamber of Commerce Board since 2011. In March 2005 I was appointed in Rome as "Consultant for international activities" of the Head of Cabinet of the Italian Minister of Communications. In 2005 I was appointed as "Consultant for Institutional, Public and International Relations" for the President of the XVII Hall of the Municipality of Rome. In November 2010, during the National Award for the best "Confcommercio Young Entrepreneurs group" I received a "Special Mention" for my efforts in training activities aimed at the growth of corporate business culture.
I have experience in issues related to the world of young, female and minority entrepreneurship, internationalization of SME and CSR (Corporate Social Responsibility). I studied abroad and I speak and write fluently in Italian, English, French, Spanish and Russian.
---
The team
SIMONA PETROZZI – She was graduated from Foreign Languages ( English and Russian ) and Literature, specializing in"Communication & Information". After her studies aiming to an in-depth knowledge of 5 languages, which have allowed her to manage relationships with foreign parties, even in the political and istitutional areas, she majored in corporate consulting, managing consulting and business communication. In 2006 she established Siro Consulting. She has always looked with interest at the digital world, as it was a basic and essential premise for the innovation and the internationalization of SMEs. Then she devoted to the web intelligence sector ( National and International Osint open sources ) as primary instrument for companies' referentiality and analysis. Hence she moved to " Personal and Corporate Web Reputation" in order to supervise and make correct information on private subjects and companies.
CATERINA FLICK – She is a criminal attorney. She graduated from Law with honors at " La Sapienza " University of Rome in 1991. Since 1996 she is listed in the public register of Rome's lawyers and since 2008 she is authorized to higher courts. Moreover,she is also "of counsel"of the associate law firm Nunziante-Magrone. She deals with criminal and corporate law ( societal, banking and bankruptcy, tax, crimes against public authorities, environmental, bankruptcy, building and urban( and of companes' administrative responsibility( cd. Decree 231), as well as right and cyber crime generally IP and ICT) of privacy and web reputation. She is teacher of " law and cyber crime and privacy"at public and private universities (Luiss Business School, UTIU-Università Telematica Internazionale Uninettuno, LUMSA, Università di Pisa, Università di Siena-Grosseto), she is author of many disclosures. She collaborates in research projects and conventions. She is consultant and teacher of associations and public administrations, among which the competition authority for personal data's protection and the CRCR ( Concerned Regional Centre for Reuse) of Tuscany. Since 2014 she also works with Telefono Azzurro on privacy and internet for minors ; she is coordinator of Web and Media commission established by the FIFCJ – Fédération Internationale des Femmes des Carrières Juridiques.
ANDREA CARISTI – Criminal lawyer, he is professionally committed in the topics of right to be forgotten and on IT.Since he was still a student, he focused on problems connected to the right of computer technologies. He trained as criminal lawyer. He has investigated on protection and investigating aspects and of all misuses that can be made on Internet. In this area he sponsored interests of economic groups of national importance. In 2011 he collaborated with the department of political sciences at Bologna University as regards the research project of FRA ( European Union Agency for Fundamental Rights – Wien) named " Data Protection and Their Use". In 2013 he was consultant of Axa insurance company for the creation of the first policy against risks connected to Internet use on the Italian market ( Cyber Risk).
He is specialist of the Parliamentary Committee of inquiry for the fight against counterfeiting and audiovisual piracy.
DANIELE MUSCARELLA – He is a Computer Information Technology engineer. He started his experience as Web master when he was just 13, getting certifications in prestigious courses of Cisco and Zyxel. In 2007 he graduated in Computer IT Engineering, and in the same year obtained license to practice in the occupation. He is a SEO specialist of high level. In 2014 he started his collaboration with Siro Consulting. Thanks to his great expertise in Web Application and Seo planning and development, and thanks to his certified professionalism, he is called upon managing the IT department.
ELISA MARCHESELLI – She is psychologist, psychotherapist and mental coach. She graduated from sciences and psychology techniques of development and education at Florence University. She's a Rorschach psychodiagnostician. She has attended the Arezzo grad school of Short Psychotherapy and the Course in High Training of criminal and investigative forensic psychology held by Professor Guglielmo Gulotta in Milano. She is a CTP expert of the Arezzo court for civil and criminal sections. She is specialized in cyber bullying, cyber pedophilia, cyber stalking and revenge porn. Moreover she is specialized in the development of corporate and coop organizations ;she knows all the psychologic sides connected to reputation risks and management identities. She is a speaker on national and international level in conventions focusing on digital topics organized by special boards like postal police.
Moreover, press agents, social media managers, editors/journalists/copywriters, web designers of absolute confidence, discretion and professionalism collaborate with Siro Consulting.